---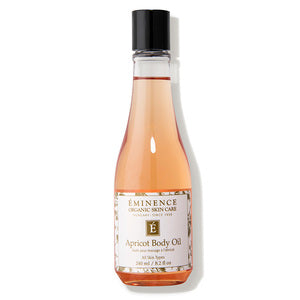 Eminence Organics Apricot Body Oil
Regular price $ 34.00
Seduce your senses with our luxurious Apricot Body Oil. Ultra-hydrating apricot oil is blended with an assortment of essential oils, such as grape seed and jojoba, to create a luscious massage oil that leaves skin feeling irresistibly soft and supple. 
Retail Size: 8.2 oz / 240 ml
- Winner of Best Massage Oil, DaySpa Professional Choice Awards, 2019
- Winner of Best Massage Oil, DaySpa Professional Choice Awards, 2017
- Winner of Best Product, LNE's Best, Les Nouvelles Esthétiques & Spa
How to Use:
Dispense an appropriate amount of oil for massage and warm in hands prior to application.
Try our alternate uses:
Hydrate your skin from head to toe
Remedy dry hands and elbows
Deeply moisturize to relieve dry, flaky skin
Add a drop to your favorite Eminence Organics body lotion to enhance your experience with a richer formula
Key Ingredients:
Apricot Kernel Oil: high in Vitamins A, C and E with skin softening properties, assists the skin in retaining the look of elasticity, clarity and suppleness
Grape Seed Oil: rejuvenating and restructuring qualities, moisturizes, reduces the look of lines and wrinkles
Jojoba Oil (Biodynamic®): nourishes and hydrates with one of the best absorption rates
Seabuckthorn Oil: vitamin and nutrient rich; protects skin cell membrane
Pomegranate Seed Oil: polyphenol-rich with high levels of antioxidants (even higher than green tea)
BioComplex: a booster of antioxidants, Coenzyme Q10, and Alpha Lipoic Acid to reduce the appearance of wrinkles and improve the appearance of skin
Eminence Organics Believes in: Organic, Natural, Biodynamic®, Sustainable, Cruelty Free
Eminence Organics says NO to: Parabens, Phthalates, Sodium Lauryl Sulfate, Propylene Glycol, Animal Testing 
Our natural, organic and Biodynamic® ingredients may have slight variations from harvest to harvest.
Results:
Epidermis is moisturized and feels revitalized
Skin tone appears improved
Skin texture appears softer and more supple
Eminence Organics is constantly innovating their product formulations to deliver the best results.