---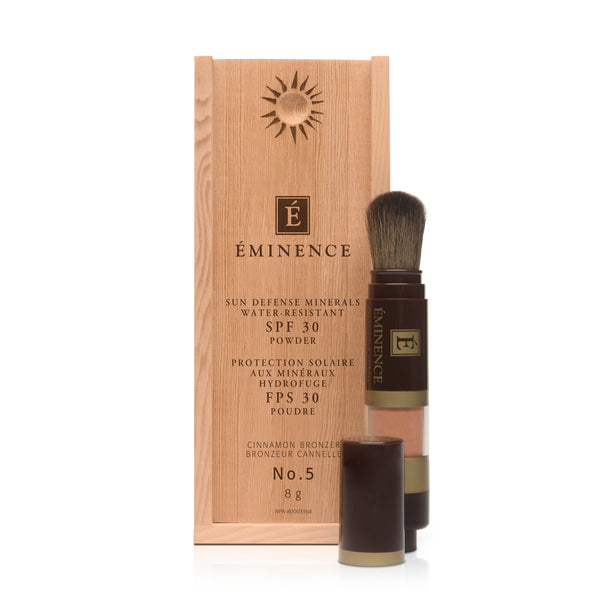 Eminence Organics Sun Defense Minerals No. 5 - Cinnamon Bronzer
Regular price $ 58.00
These hypoallergenic, non poreÿclogging natural minerals provide water-resistant SPF 30 sun protection to women and men alike. They are excellent for post-treatment use, especially on red or blotchy skin. Darker shades can be used as a bronzer.
Retail Size: 0.28 oz / 8ÿg
Also available in:
No.0 Translucent
No.1 Honey Apple
No.2 Cherries and Berries
No.3 Peaches and Cream
No.4 Calendula Spice
*Product packaging may not be as shown.
How to Use
For initial application, pump brush three times to release minerals and tap brush once or twice to evenly distribute minerals. Once set-up, there is no need to pump the brush again as doing so will clog the brush. 15-30 minutes prior to sun exposure, sweep the brush with gentle semi-circular strokes over the skin and apply a thin layer of minerals; continue for more opaque coverage. For best results, apply after moisturizer has completely absorbed into the skin. Reapply at least every 2 hours or reapply after 40 minutes of swimming or sweating and immediately after towel drying.ÿ
Key Ingredients
Minerals
Micronized Zinc Oxide (Sunscreen)
Fruit Extracts
Vitamins A & E
Eminence Organics Believes in: Organic, Natural, Biodynamic©, Sustainable, Cruelty Free
Eminence Organics says NO to: Parabens, Phthalates, Sodium Lauryl Sulfate, Propylene Glycol, Animal Testingÿ
Results
Vitamin content provides nutrition and antioxidant protection for the skin
Complexion appears even, flawless and smooth
Provides a silky matte finish to the skin
Long wearing, even coverage
Eminence Organics is constantly innovating their product formulations to deliver the best results.ÿ